Welcome to Vertex Compliance Consulting
---
As a consultant I offer my services to companies who may not have a full time compliance person on staff and yet need to prepare their products for review / testing by an NRTL or other Third Party Certifier.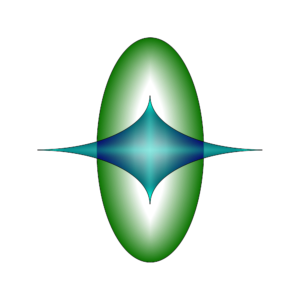 Vertex Compliance Consulting is the name I chose to represent in large part what I do. There are a number of ways I have helped clients over the past several years. Among those, four particular areas stand out. The image at the right is an ellipse and its evolute. There are four vertices in this formation, implying the four focal points. At Vertex Compliance Consulting these points translate into four areas of expertise.
Product Safety Engineering
Electromagnetic Compatibility
Risk Analysis and Mitigation
Failure Mode and Effects Analysis
Over the years I've had experience applying these four principles to a wide variety of products:
Flow Battery Energy Storage (ESS)
Lithium-based Energy Storage (ESS)
Hydrogen Fuel Cells
Industrial Power Conversion Equipment
High Voltage Power Supplies
Commercial & Utility-Scale Photovoltaic Inverters
Semiconductor Manufacturing Equipment
Robots & Robotic Equipment
Unmanned Aerial Vehicles (UAV)
Laboratory Instrumentation
Measurement Equipment
Commercial Kitchen Equipment
Information Technology Equipment
Multimedia Equipment
Laboratory Certifications (ISO 17025)
I am available for consulting In these categories and more. If you'd like to know more, contact me today.